By Jacques Calero and Sebastian Bianchi
The Air Radio Operator & Air Gunner badge was instituted on January 19, 1935 and dedicated at first (before the institution of the gunner badge) to radio and gunner qualified personnel. Personnel had to success the training course and to participate at least at 5 operational flights.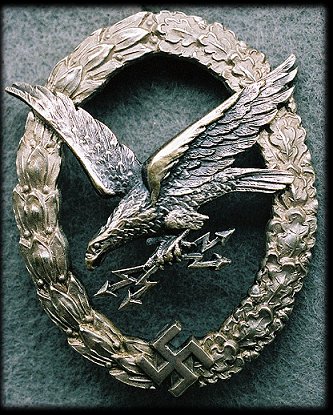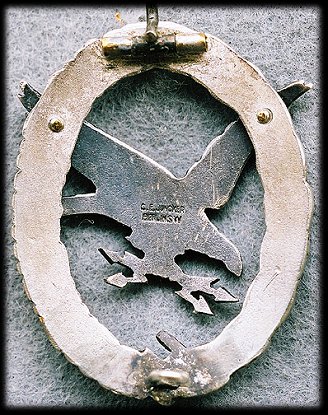 Mark Miller Collection
Manufacturing and Technical Information
The badge was oval shaped and slightly vaulted surrounded by a silvered wreath composed of laurel and oak leaves with a swastika on the base. On the precocious models, the swastika upper branch is cut out. The old silver oxidized eagle is fixed to the wreath by two small round rivets. The eagle clutched in its claws two crossed lighting bolts which could, depending the manufacture, be more or less detailed and cut out or not.
The employed metal varied all along the war from aluminum and tombak, to a silver-nickel called ''Neusilber'', zinc, and pot metal.
Though initially a cloth version was not authorized, one was later introduced and was found in both bullion and silver wire embroidery.
The following maker's list is not exhaustive and the sizes are only representative of badges observed.
Maker
Mark
Metal
Dimensions
Eagle
(in mm)
Wreath
(in mm)
Weight
(in Grams)
ASSMANN

LÜDENSCHEID

A
Tombak
41.2
53.4 x 43.5
40.6
ASSMANN

LÜDENSCHEID

A

Neusilber

40.4
53.2 x 42.8
38.2
ASSMANN

LÜDENSCHEID

A

Zinc

41.1
53.0 x 41.7
25.4
JUNKER
BERLIN

C.E.JUNCKER


BERLIN S.W.

Neusilber

40.9
52.4 x 41.2
24.4
JUNKER
BERLIN
C.E.JUNCKER




BERLIN S.W.

Tombak
41.8
52.3 x 41.2
23.6
JUNKER
BERLIN
C.E.JUNCKER




BERLIN S.W.

Tombak
41.8
52.7 x 40.9
30.3
JUNKER
BERLIN

C.E.JUNCKER


BERLIN S.W.
Silver 800
52.0 x 41.2
24.15

JMME

JMME & SOHN


BERLIN
Tombak

JMME

JMME

Neusilber

41.8
52.8 x 40.3
39.5
DEUME

R

W. DEUME

R




LÜDENSCHEID

Tombak
DEUME

R

W. DEUMER


LÜDENSCHEID

Zinc

42.5
53.5 x 41.0
27.5

BERG & NOLTE




LÜDENSCHEID

B & N


L

Tombak

BERG & NOLTE




LÜDENSCHEID

B & N
L

Zinc

43.1
52.9 x 41.1
30.5

BRÜDER SCHNEIDER


WIEN
B

S




W

Tombak
UNMARKED

Zinc

43.3
53.6 x 41.8
Presentation, W

ear, Documents
The badge was presented in a dark blue box of which several variants exist, with velvet, cloth or flocage lid. The letters on the top are always golden.
A certificate was presented to all personnel who received the badge which was worn, as with most war badges, on the lower left breast, below the Iron Cross.
Award Criteria
As implied by the title, the badge was presented to Air Gunners and Radio Operators and mechanics who completed two months training or five missions. The criteria was shortened if the soldier received a wound in action.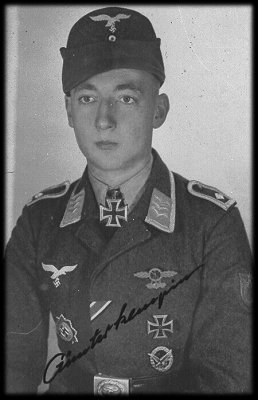 Top of Page

| | |
| --- | --- |
| © Copyright Wehrmacht-Awards.com LLC | |