By Jacques Calero
On April 1, 1935, the Landespolizeigruppe General Göring was redesignated Regiment General Göring, becoming a part of the Luftwaffe until 23 Sep 1935. Parts of this unit (I. Jäger-Bataillon/RGG and 15. Pionier-Kompanie/RGG) were transferred to Döberitz Jan 1936 for parachute training. These troops were to be the cadre of the future German paratroopers and were separated from the unit March 1938.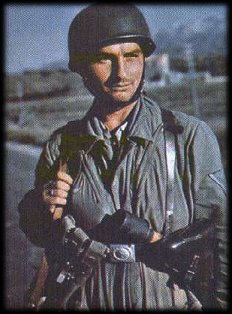 In order to recognize these daredevil pioneers, the Paratrooper Badge was instituted on November 5, 1936 by the Reichsminister der Luftwaffe and Oberbefelschaber der Luftwaffe (registered in the Luftwaffe ''Verordnungsblatt'[16 Nov/n°475610612]).
Sebastian Bianchi Collection
Manufacturing and Technical Information
The badge consists of a diving gilded eagle, clutching the swastika in its claws, that is riveted to the wreath by two tiny round rivets (except the GWL model). The wreath is formed with laurel leaves on the left side and oak leaves on the right, and is bright silvered or dark silver oxidized with the ridges burnished.
The fastening system is typical of the Luftwaffe badges. It consists of a thin needle pin (end rounded or pointed), a barrel hinge soldered to the wreath and a soldered ''C'' form hook. Some manufacturers badges have a special hinge form (at least GWL, BNL, ASSMANN). The badge was constructed in silver-nickel alliage, tombak and zinc.
The following characteristics are only indicative and in relation with the badges observed:
Height: 52.1mm to 53.9mm
Width: 41;8mm to 43.3mm
Eagle: 49mm to 50.7mm
Weight: 20.11gr to 43.98gr
Several manufacturers made this badge. Their name or logo is generally engraved on the reverse of the eagle. The following non exhaustive list is in my knowledge:
C.E. JUNCKER BERLIN SW
IMME & SOHN BERLIN
W.DEUMER LÜDENSCHEID
G.W.L. (Gebrüder Wegerhoff Lüdenscheid)

G.H. OSANG DRESDEN
P. MEYBAUER BERLIN
B&NL (Berg & Nolte Lüdenscheid)
A (Assmann)
J.F.S. (Josef Feix & Sohn)
A cloth version with embroidered bullion wire, cotton thread, was authorized to be worn on the uniform only until 42 (though in spite of regulations, it continued to be worn until the end of the war.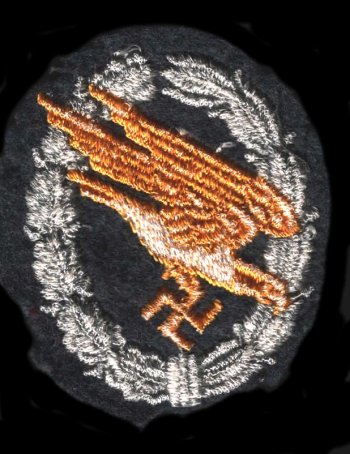 Stijn David Collection
Presentation, Wear, Documents
The badge was worn on the uniform upper left pocket, or on the equivalent place on the flight jacket (Fliegerbluse) or gala uniform.
The badge was presented on a dark blue box with the inscription ''Luftwaffe=Fallschirm=Schützenabz.'' in golden letters. A certificate was also presented. Different award document forms existed; it was firstly in DIN A4 format, then in DIN A 5.
Award Criteria
The conditions changed all along the war. From 41 to 44 progressively any specialist (riflemen, administration, doctors) was authorized to wear the badge after performing jump training.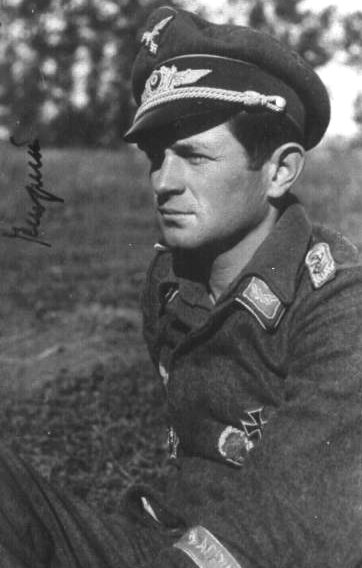 Hauptmann Friedrich WANGERIN, awarded the Ritterkreuz on 10/24/1944

| | |
| --- | --- |
| © Copyright Wehrmacht-Awards.com LLC | |