by Sebastián Bianchi
At the direction of Grand Admiral Erich Raeder, commander in chief of the navy, the Fleet War badge was instituted on April 30 1941 to recognize the sea actions of the German Navy, mainly in actions against England. The designer as well as the principal maker was, Adolf Bock of Berlin. Even though the badge was instituted in 1941, it was awarded for actions prior to that date.
Manufacturing and Technical information
The High Seas Fleet War Badge is highly detailed and easily recognized by its silver German battleship coming head on at full steam plowing through the center of the Badge. The battleship is surrounded by a gold wreath that has, at its base, a ribbon tied in the form of an X with an acorn in the top and lower V formed by the tie. There are 8 bunches of two oak leaves that make up the wreath, with a single acorn at the tip of each leaf alternating on the outside and inside. At the top of the Badge is the national emblem with wings spread, clutching a swastika in its claws. One will note the high detail in the battleships guns, windows, and waves created as it passes through the water. From the base to the tip of the eagles' head measures 57mm and the width is 44mm. The eagles' wingspan is 31mm and width of the wreath is 7mm. The back of the badge is flat with a dished shape and black in appearance. The hinge, pin and hook assemblies are also black. Some known makers of this badge are Adolf Bock, Schwerin and Friedrich Orth.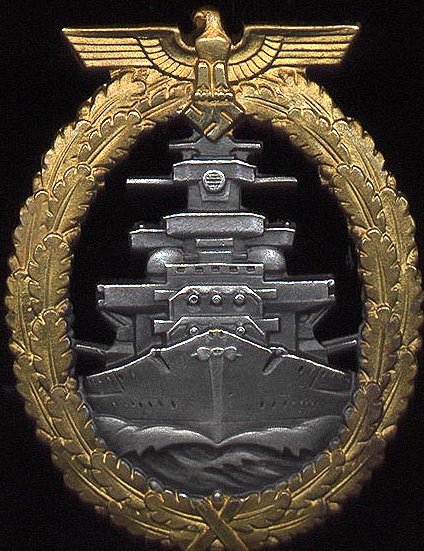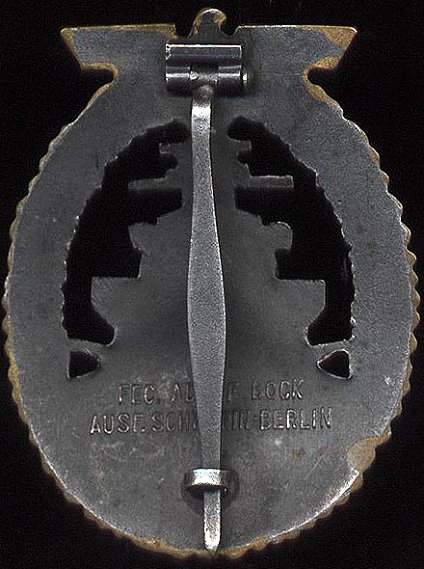 M. Miller Collection
Presentation, Wear and Documents
The badge was presented in a case or gray envelope with the name of the award stenciled on the front. The case was dark blue with an unmarked exterior. The interior was lined with a bright flocking on the top and bottom of the case. It was presented with a standard award document.
The High Seas Fleet Badge was worn on the lower left breast pocket below the Iron Cross 1st Class, if that award was owned by the recipient.
Award Criteria
The Fleet War Badge was awarded to crews of battleships, cruisers and other naval ships serving in combat areas, including those killed in action. For personnel serving on battleships or cruisers, the award came through the commander of the task force. For other naval personnel the award came through naval headquarters. The criteria for receiving the award is as follows:
12 weeks service on a battleship or cruiser, with proof of distinction and good conduct.
The number of weeks could be reduced if the following conditions were met;
If the recipient wounded or killed during the voyage.
If the cruise was successful.
For participation in "Rawalpindi" and "Jan Mayen".
Top of Page

| | |
| --- | --- |
| © Copyright Wehrmacht-Awards.com LLC | |