by Sebastián Bianchi

Merchant ships were regularly used by the Kriegsmarine to assist its contingent of u-boats, destroyers, cruisers, and battleships in the destruction of Allied shipping. These merchant ships or "Auxiliary Cruisers" were outfit with a variety of anti-ship weapons and patrolled shipping lanes throughout the world. On April 24, 1941 Grand Admiral Raeder ordered a special badge be introduced to recognize the bravery and heroism of the men of these vessels.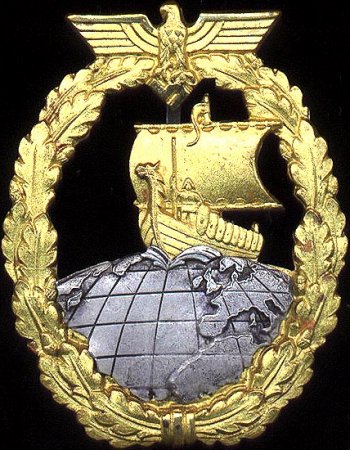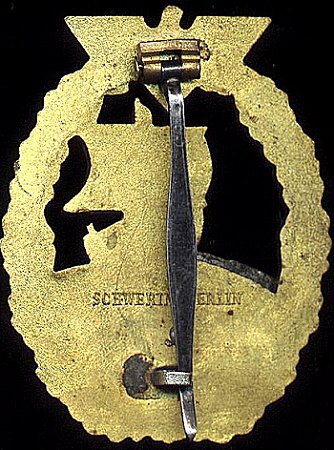 M. Miller Collection
Manufacturing and Technical information
The Auxiliary Cruiser Badge, designed by Ernst Peekhaus of Berlin, portrayed a Viking ship sailing on the Northern hemisphere of the globe surrounded by a wreath of oak leaves. The wreath, eagle, and ship are gilt and the globe area is gray. Versions were produced in silver, tombak, and zinc. The globe could be an integral part of the badge or a separate piece, which was held in place by a single rivet.

A special presentation version was produced with diamond-inlaid swastikas. The only known recipient of the diamonds version is Kapitän zur See Bernhard Rogge, commander of the cruiser "Atlantis", to whom the badge was presented in January 1942 by Grand Admiral Raeder (Kapitän Rogge was awarded the Oakleaves to his Knights Cross on December 31, 1941).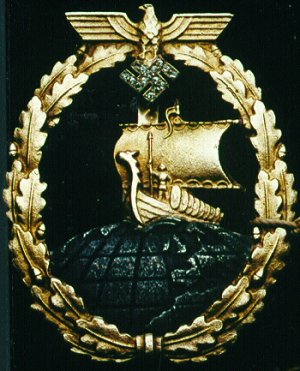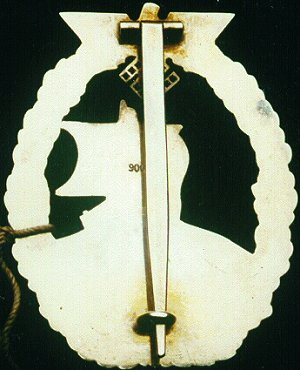 Presentation, Wear and Documents
The badge was worn on the left breast. Like most Wehrmacht awards, there was no one standard award document for the Auxiliary Cruiser Badge and reference sources state that many different styles exist. The author welcome any further information on this topic.
Award Criteria
The badge was awarded for completing a "successful long distance voyage by the crew of an auxiliary cruiser or supply ship"*. It could also be awarded for distinguished leadership while taking part in these voyages. Any person wounded during the voyage automatically received the award.

* Some auxiliary cruisers/supply ships were at sea almost two years without returning to Germany. Patrolling unfriendly waters for such periods of time and safely returning home can no doubt be considered remarkable.

Top of Page

| | |
| --- | --- |
| © Copyright Wehrmacht-Awards.com LLC | |