Jaques Caldero and SebastiŠn Bianchi
In February 1943, Admiral Donitz instituted the Naval version of the Honor Roll, to be followed by the Honor Clasp of the German Navy on May 13, 1944.
Manufacture and Technical Information
In the case of the Kriegsmarine the decoration that represented induction into the roll was a marine anchor surmounted by a swastika, with a wreath of oak leaves rolled up in the same direction surrounding the whole clasp. In this case the wreath is made of 15 individual branches measuring 3.5mm across.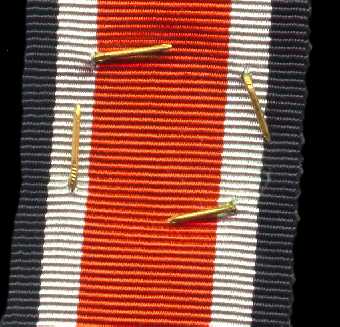 The decoration is hollow and manufactured from a single stamping, so that the reverse inversely mirrors the obverse. Four fine fasteners are soldered on the reverse to facilitate wear, these staples were gilded and the ends were polished.
The dimensions were as follows,
Height: 25.7mm
Anchors: 20.0mm
Cross: 12.8 X 12.8mm
Weight: 2.92g (without ribbon)
This extremely rare award has been copied extensively. Be aware of any award that presents the following characteristics,
Any specimen with a space between the anchor and the crown.
Fasteners are blunt.
Solid manufacture (the originals are hollow).
Presentation, Wear and Documents

The clasp was presented in a black box with a blue flocked base and white silk lining. An award authorizing wear was presented, and as with all other German decorations an entry was made into the individualís Soldbuch and Wehrpass.

As with the Heer and Lufwaffe version, the Kriegsmarine Honor Roll Clasp was to be mounted on the ribbon of the Iron Cross 2nd Class.

Herbert Grohne, recipient of the Honor Clasp of the Kriegsmarine on March 27, 1945. It is the only photograph which I know of illustrating the wear of this extremely rare decoration. In fact, he is wearing a copy manufactured by a member of his crew at the time of attribution, since his unit had not received the original decoration.
Award Criteria
The award criteria for this clasp was to have performed an honorable act that did not qualify for the Knights Cross or the German Cross. Due to the chaotic circumstances reining at the end of the war, it is very difficult to ascertain how many awards were presented, although it is estimated at about sixty, making it the most rare of the 3 clasps.
Top of Page

| | |
| --- | --- |
| © Copyright Wehrmacht-Awards.com LLC | |