Content - Richard Lundström
Layout - Sebastian Bianchi
Exotica: Rare Awards 1914-1945
This section displays a number of rare or unusual awards and varieties of devices that collectors will rarely see. Not all of these are necessarily "valuable," as defined by the retail collectors' market, and quite a few are certainly not dramatic and flashy-as so many tell tale fakes are. (See the Bad section of The Good, The Bad, and The Ugly.)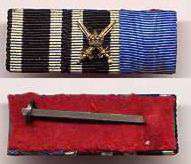 This tiny little bar holds the record for smallest "anonymous" group whose owner is traceable. Look closely at the second ribbon's device. Swords crossed THROUGH the crown, rather than under it, is the rarely used device not, as this might at first appear, for a WWI Prussian Hohenzollern House Order with Swords-but for the Prussian Crown Order with Swords. That version of the Order was virtually exclusively bestowed for pre-WWI colonial campaigns. Yet-where is the relevant campaign medal? There isn't one! That is because this bar was worn by a Hauptmann named Braunschweig, then an Oberleutnant in the Schutztruppen for German East Africa, who received a Prussian Crown Order 4th Class with Swords matching his normal peacetime class of the same, for action between 1913 and 1914. No campaign bar was granted for a Colonial Medal for whatever action Braunschweig won this Order for. He was the sole 1914 officer with BOTH peacetime and swords Crown Order 4th Classes-and no other awards or campaign medals.

Nor is this little half height bar particularly exciting looking. It is, after all, only an enlisted man's bar-yet the combination tells us a number of things about the wearer. The awards are: Prussian Iron Cross 2nd Class, Lippe-Detmold War Merit Cross, Lippe-Detmold Military Merit Medal, WWI Honor Cross for Combatants aka Hindenburg Cross, 1938 Sudeten Annexation Medal, and Hungarian WWI Commemorative Medal. The third ribbon, the Lippe-Detmold MMM, was awarded by statutes from 1914 ONLY if: an enlisted man who was a subject of Lippe-Detmold AND in the IInd Battalion of Infantry Regiment 55 was wounded or sent home disabled by war related illness WITHOUT having been awarded an Iron Cross 2nd Class. VERY specific restrictions, indeed! The original intention was obviously to reward soldiers who would have received no other decoration in what was anticipated would be another 6 weeks triumph. As a consequence of the combination of circumstances limiting award of this medal, there can have been at very most no more than several hundred bestowed. Obviously later award of an Iron Cross did not require surrender of this medal-the very first wound medal of the World War. Whether awards continued after creation of the 1918 Reichs Wound Badges I don't know.
Iron Crosses in 1914 were rare and special decorations, as the Detmold statute above reflected. By the end of the war, however, they had been awarded about five million times-to roughly one in every two combatants. In sharp contrast, the noncombatant version of the Iron Cross was only awarded 13,000 times-and 10,000 of those were made after the Armistice.

This bar from the 1930s is one of the very few so-called "white-black" (for the reversed ribbon colors) noncombatant Iron Cross ribbon bars I have seen in decades of collecting. The other ribbons show that this wearer was a Hessian, probably an ex-career NCO, and served in uniform-but behind the front-during the war. The second ribbon is for the Hessian Military Medical Cross, with its distinctive silver threaded rear area/civilian services ribbon, then the Prussian War Effort Cross, a noncombatant Hindenburg Cross (indicating the wearer served in the military-civilians were not eligible), a Hessian Long Service award (officers received the Prussian awards), and the 1897 Wilhelm I Centenary Medal showing this man was on active military duty in March 1897 in one of the units entitled to it. Three wartime awards for a holder of the "white black" Iron Cross was a notable achievement indeed. Although loose, unmounted Crosses are often found with noncombatant ribbons (often newly made), finding a noncombatant Iron Cross medal bar or ribbon bar is not easy.
Probably the single most peculiar military decoration of all time was awarded to an isolated expeditionary corps of German troops in the Caucasus. With the undefeated Schutztruppen of German East Africa, these men were the only Imperial German forces "at large" at the time of the Armistice. The award was the Menshevik Republic of Georgia's so-called "Order" of Saint/Queen Tamara-granted ONLY to Germans, for services in keeping their own Turkish "allies" out of the region!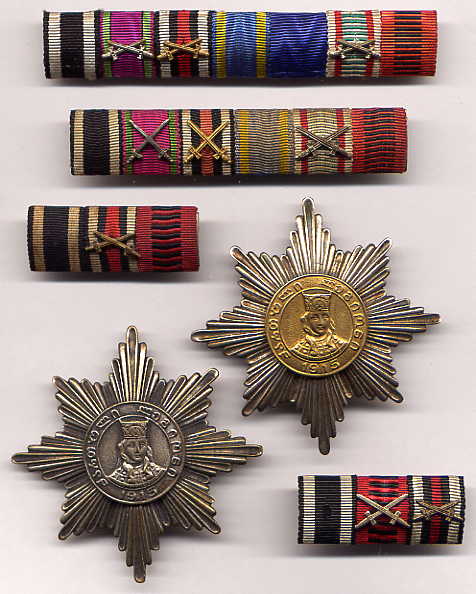 Two so-called "classes" of this bizarre, obscure star are shown here, along with a variety of recipients' ribbon bars. Like the Turkish War Medal aka Gallipoli Star aka Iron Half Moon, the Tamara's ribbon (deep dull red with horizontal black stripes) was only to be worn when the star itself was not. The two upper bars belonged to the same recipient, virtually certainly a former member of Infantry Regiment 153 from the Saxe-Ernestine House Order/Medal with silver swords and Saxe-Altenburg Duke Ernst Medal. Note that in the upper, post 1935 bar, the owner had added a Third Reich "generic" blue long service ribbon-probably for R.A.D. service. The bar lower left also shows correct mounting precedence, whereas the bar at bottom right does not. Swords there were never authorized. Since this decoration was only awarded to Germans-not Georgians!-the wearer must have considered this a "German" World War award when he had it mounted before his Honor Cross.

This ribbon bar was split off from its pre-WW2 matching full medal bar, and sold 2 years and five states apart in the early 1980s. (I've been watching for that medal bar to resurface ever since.) As a result, I was able to precisely detail exact awards which would not otherwise have been possible simply from the ribbons as seen here. After the Iron Cross and WW2 KVK2X is the ribbon of a WWI award of the Lippe Honor Cross (House Order) with Swords, then the Lippe-Detmold War Merit Cross, Hamburg Hanseatic Cross, Honor Cross for Combatants, Wehrmacht 12 Years Service Medal, Wehrmacht 4 Years Service Medal, and 1922-45 generic Red Cross/Volkspflege awards ribbon. The third ribbon was for a 4th Class, Second Division, and the last ribbon was for the Volkspflege Decoration.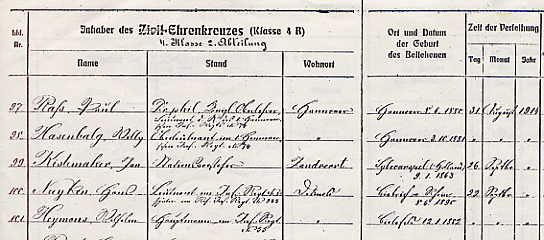 To illustrate HOW identifications are made, from rank Lists and so on, here is a Xerox of the actual unpublished Lippe award roll showing the recipient on line 100. Every single one of the holders was checked against this combination of awards and length of Wehrmacht service. The sole "match" was Hans Nuyken, born 8 June 1890 Hinbrich am Rhein. Commissioned Leutnant in Infantry Regiment 55 20.2.10 A, promoted Oberleutnant 18.10.15 Aa, and discharged as a charakterisiert Hauptmann aD in 1920, having ended WWI in a General Staff position with the 10th Reserve Division. As the bestowal entry of 22 September 1914 shows, Leutnant Nuyken had subsequently been transferred to Reserve Infantry Regiment 255. He returned to Wehrmacht service as a supplementary "retread" (Ergänzungs) officer, promoted to Major (E) 1.3.38 #25 and ultimately Oberst (S) 1.12.42 #38, all while on the staff of the Inlandsabteilung of the OKW's Allgemeine Wehrmacht Amt.


BO
Not all rare and unusual groups look quite that nice, of course. This one is: WWI Honor Cross for Combatants, 1919-1921 Silesian Eagle 2nd Class, 1936 Olympics Medal, WW2 Croatian Ante Pavelic silver bravery medal, and Hungarian WWI Commemorative Medal. Fascist Croatia's war decorations were all worn on a single, Austro-Hungarian type war ribbon-which coincidentally was exactly the same as the 1922-45 German Red Cross/Volkspflege awards. Miniature distinguishing devices were an obvious necessity. This is the only Pavelic mini I have ever seen.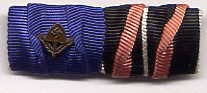 JCJ
Another "rare" device should NOT have been. This south German style bar shows the R.A.D. men's 4 Years Service Medal and a 1938 Sudeten Medal. Authorized for only a few months in 1940, the R.A.D. device was an obvious solution to distinguishing the "generic" blue long service ribbons apart. But for whatever reason, it was decided to ban these, and they were removed from use.
Third Reich Police awards always had ribbon devices for the 18 and 25 years long service crosses, though the 8 years medal did not. Peculiarly, full sized medals also had devices on 18 and 25 years awards worn on parade medal bars, which were always embroidered on those full sized medal bar ribbons. Ribbon bars normally had a small matching metal device, but an authorized but rarely encountered variety used tiny embroidered ribbon bar emblems, like the Hindenburg Cross, Luftschutz Medal, 18 Years Police Service Cross bar of circa 1940 here;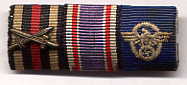 BO

Another little used embroidered device was authorized for the Customs Long Service Cross. This one has two ribbons which it would not be possible to specifically identify-except that this bar came with its matching full medal bar. The awards are: Iron Cross, Mecklenburg (-Schwerin Friedrich Franz Cross 2nd Class), Lübeck Hanseatic Cross, Honor Cross for Combatants, (Prussian/navy XV Years Service Cross), Third Reich 25 Years Civil Service Cross, and Customs Long Service Cross with embroidered device. Two interesting points: the rare embroidered, rather than miniature metal, device is in yellow thread that does not match the bronze finished cross-though is original. Note that the 1939 Customs Cross, granted for either 4 or 8 years service, was an inexplicable "double dip"-being awarded for LESS time AFTER the 1938 civil service Loyal Service Cross-and in ADDITION to it. No other branch of the German civil service was eligible for two different current awards for the SAME long service!

This original bar brings up two issues that will be addressed more fully in the fakes section of "The Good, The Bad, and The Ugly:" devices which are commonly found on fakes, but rarely on originals, and period ribbon bar construction types. This bar is: Iron Cross 2nd Class 1914, Württemberg Military Merit Order-Knight, WWI Honor Cross for Combatants, Wehrmacht 40 Years Long Service Cross (wreath authorized only in 1939-all awards of all classes suspended early in 1940), Wehrmacht 12 Years Long Service Medal, either a Prussian Crown Order or a Württemberg Friedrich Order-either as a peacetime pre-WW1 award, a Württemberg Long Service award (either a non regulation wear of the XXV Years Service Cross, or correct wear of a Reserve-Landwehr award: Beamten WERE authorized to wear BOTH active duty long service awards and Res-Ldw awards if they were also reserve officers), a 1936 Olympics Decoration 2nd Class, and the 1897 Wilhelm I Centenary Medal. I do not find a recipient in the active officer corps who was serving in 1939 but had the requisite 40 years of active duty with pre-1897 seniority. This recipient was either a military official (Beamter) of some type, who had been a reserve officer in the Imperial period, or he was a recalled "zur Verfügung" type General. The Wehrmacht 40 years device is frequently found on fakes-far more than it was ever found on original bars like this. Most recipients were NOT sixty year old "Field Marshals," but some sort of Beamten, who generally retired later, and at much lower ranks, than regular officers. This bar, although dating from the summer of 1939, is a carry over of the original M1915 steel backed type, with holes drilled only behind the devices, as each bar was made by hand. Such construction was outdated and unusual this late-and if the metal involved on a full height 15 mm bar like this had been all BRASS, would be an absolute indication of a fake. For more on that aspect of distinguishing real bars like this from the frauds flooding the collector market, see the "Bad" section and section on construction of ribbon bars.

Another epidemically faked ribbon bar device is the SS runes. This ribbon bar is the ONLY original that I have EVER seen, in more than 35 years of collecting. The glaring differences between this real device and the common varieties of fakes will be clear looking in the x500% Devices Gallery. The reality, here, is far less "glamorous" than the "Where Eagles Dare" monstrosities flooding the marketplace. SS long service awards were only granted to three categories of personnel: career enlistees in the SS-Verfügungstruppe (later "Waffen-SS"), and staffs of SS-Junkerschulen (Officer Training Schools) and Totenkopfverbánde (Concentration Camp personnel). All other members of the SS simply received the same NSDAP long service awards that career uniformed personnel of any Nazi Party organization received. Members of the few SS branches entitled to their own long service awards also wore the Party awards, with the SS one (only a single SS award could be worn, though all three NSDAP awards could be worn together) first. A veteran of WWI with an Iron Cross 2nd Class, this fan of the south German mounting style had a War Merit Cross 2nd Class without swords for non-military related WW2 war merit, and had taken part in the 1938 Austrian Anschluss. His Luftschutz Medal was picked up for some sort of civil defense affiliation. He had 12 years of credited SS time, and 15 with the Party-some overlap was always possible given membership seniority, different years credit, pre-1933 double time, wartime double service credit, and so on. As a brutally simple rule of thumb, if you see ANY ribbon bar with SS runes, you can presume that as statistical certainty it is fake, 99.9% of the time. Examine any such piece with extreme skepticism. For equally rare original SS 8 and 4 years service medals' devices, see the x500% Devices Gallery.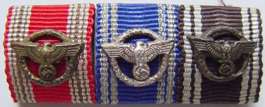 MS
Here again is the ONLY original example of Nazi Party long service exotica that I have EVER seen. All three classes-for 25, 15, and 10 years as a uniformed member of a Party organization, could be worn together: Nazi "Golden Pheasants" were no less fond of ostentatious display than Hermann Göring. The superfluous devices are almost always found on the ribbons, though they served no purpose besides over the top embellishment-the different ribbons already clearly indicated classes. As with the SS long service awards just discussed, the only way that these "long" service awards were actually won during the twelve year "Thousand Year Reich" were because "Old Fighter" pre-1933 service was counted double. Even so, since awards were only made once annually-on 30 January, for service times computed as of the previous October, the only Nazis who could have received the "25" years cross would have had to have joined no later than early 1926, at absolute latest for a 1945 award. From the fact that there were only some 22,000 ordinary dues paying members who held Golden Party Badges for continuous 1925-28 Party membership, the number of 1925-26 career Party functionaries can be seen to have been considerably smaller than that. Yet this is one of the most frequently encountered FAKE ribbons and devices to be found. The reason is simple: uniforms effects tailors had no real call for 26 Years NSDAP ribbon bars. As a result, considerable quantities of unused ribbon bar stock ribbon still turns up from time to time, with other never used stock. (I have such a roll.) For some reason, the metal 25 years device itself does NOT turn up. The most prolific mass forger of ribbon bars had a considerable supply of original 15 years devices, which he gleefully used for years, painting gold or bronze to fob off his butchery. Because this bar is the individual ribbon tab backed type, its owner Mark Schroeder very bravely pried the tabs up and spread the pins to verify that this is indeed "golden." (Don't do that at home! Tabs were not meant to be moved, are brittle and rusty after over half a century's corrosion, and device splints may snap. Mark's audacity was driven by the torrent of fakes out there-this is another "assume fake on sight" award, by simple statistical probability.)
Top of Page

| | |
| --- | --- |
| © Copyright Wehrmacht-Awards.com LLC | |