Hey everyone.
Here's my little collection bunker; a small area in the basement I made.
Not everything is displayed fully as.... well.... there are drawers in that cabinet, and they be filled with dishes and stuff.
I love designing and re-designing the room almost as much as I love collecting. Hope you like like it, maybe gives you some ideas for your own museum.

Thanks for looking
NOTE: The railway eagle is a replica.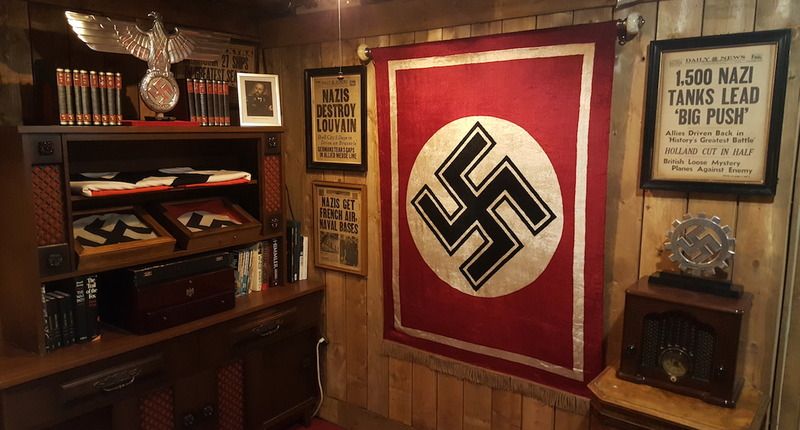 Originally I had a nice cherry wood three-level shelving unit, but upon finding this vintage 70s style dining room cabinet with its unique wood carving and orange under accents on the sides, I felt it provided the room with much more of a cozy and historical feel, and I swapped them out.
NOTE: The SS hat is a replica. Me not so rich.


Top to bottom.
1. Top shelf is a 22-foot outdoor building banner.
2. Mid shelf a maroon, wire tassel podium banner, and red pennant
3. Thin black case between the books - Luftwaffe Officers 18-piece silverware set
4. Large brown case below that - various Waffen SS stainless cutlery
5. Open drawer left - Waffen SS soups bowls (more porcelain inside cabinet)
6. Open drawer right - 2x3.35m Kriegsmarine flag
One amazingly comfy lounge chair. Great for reading and late night Scotch.

Smaller podium style banners and funeral sash.
Velvet podium banner.
... with decorative curtain rod accent from Bed, Bath, and Beyond.

Finally... the museum with just the curio cabinet light and vintage amber bulb over head. Quaint and cozy as the dickens!!
Final note. While my (Japanese) wife has no issue with me collecting Third Reich militaria nor having a museum style room to display it.... she still refuses to sit in there as she finds it "uneasy and creepy". Guess you can't have everything.